I am a self proclaimed Starbucks addict. Every morning, I go to get my venti raspberry mocha without fail. Oh yeah, and of course the whipped cream! I have been doing this religiously for several years. Its quite convenient there is about 59 coffee shops between my house and my office.
Not only has this been harmful for my pocketbook (at $5.16 a time!) I hadn't realized how many of my daily calories I am drinking for breakfast!! I am doing weight watchers currently, and I looked up the points value of my usual....I stopped adding it up when I saw the tally was over 14 points!!!!! Holy crap. To put it in perspective, I get 38 "points" for the day. Using that many points for a coffee is personal sabatoge!!!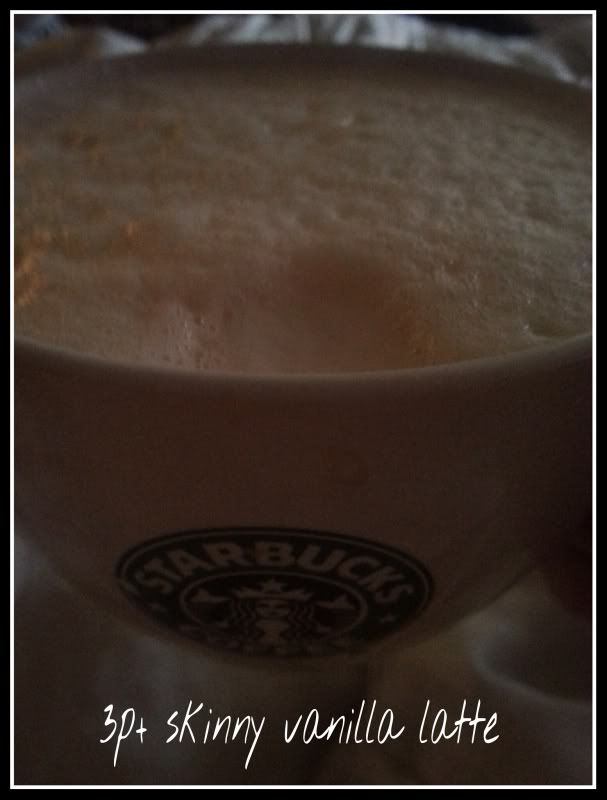 This morning I came up with a (much) lighter alternative, that still tastes decadent! I modeled it after the Starbucks Skinny Vanilla Latte and am thrilled to tally my morning coffee up at 3points+!!
1 cup of 1% milk
4oz of espresso brewed coffee
Sugar free vanilla syrup
Splenda for extra sweetness if ya need it!
That's it! I don't have a milk frother, and the frothed milk is what makes a latte in my opinion. I actually heat my milk up in the vitamix. It heats the milk quickly and infuses so much air it makes it so velvety and smooth, you will totally forget you are drinking lowfat milk! Plus, the vitamix creates a killer layer of the best foam around! If you dont have a frother or a vitamix, heat your milk in the microwave then dump it into a blender on high to get that froth!