My sister in law Alex loves Payton Manning. Hands down. He was in town with the Broncos last night for the home (preseason) opener for my beloved hawks. The game has been sold out for a while, but I kept checking for re-sale tickets just in case they dropped into my price range and Ricky and I could take her as a surprise to see him in person.
Luckily around noon, on my way back from a shopping trip with my sister and mom, I saw a post on craigslist for 2 tickets to the game, for pick-up in my town and BELOW FACE VALUE!!! I jumped on those like white on rice. Turns out it was a season ticket holder who couldn't make the game. Thanks dude!
When we got to the stadium, because I love Alex, and it was a preseason game, we high tailed it to the visitor's tunnel so she could get an up close view of her man.
If you didn't catch what she said, it was along the lines of her life being complete. A highlight for me was seeing John Elway was at the game. Pretty darn cool if you ask me!
Apparently the newest bachelorette and her man were also at the game though I didn't see them (bummer) but my parents and sister saw them!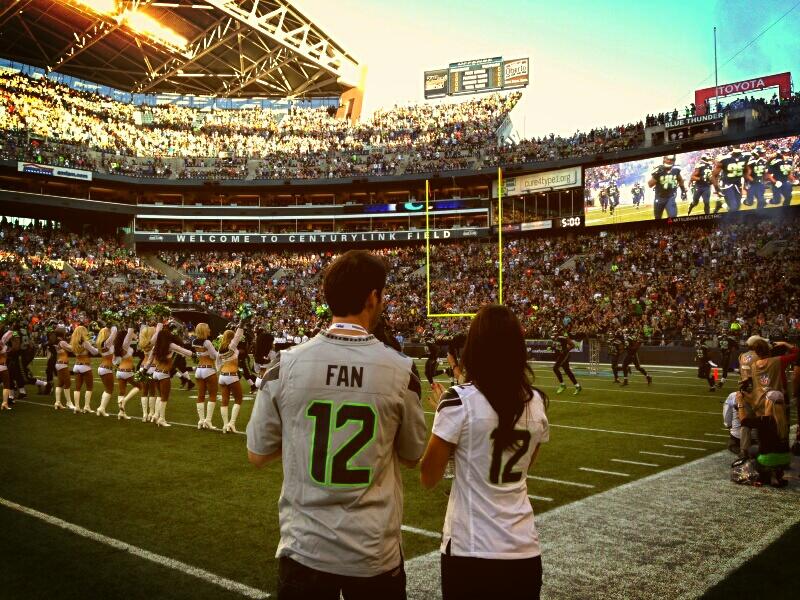 This was off Desiree's twitter. Yes, I follow her, sue me.
The game, if any one reading this watching it, it goes without saying that the Hawks wiped the field with the Broncos and I loved every second. There is nothing like the feeling of being in the Clink, watching your team with the rest of the sold out crowd, and screaming your head off. Nothing like that game atmosphere! They don't call us the 12th Man for nothing!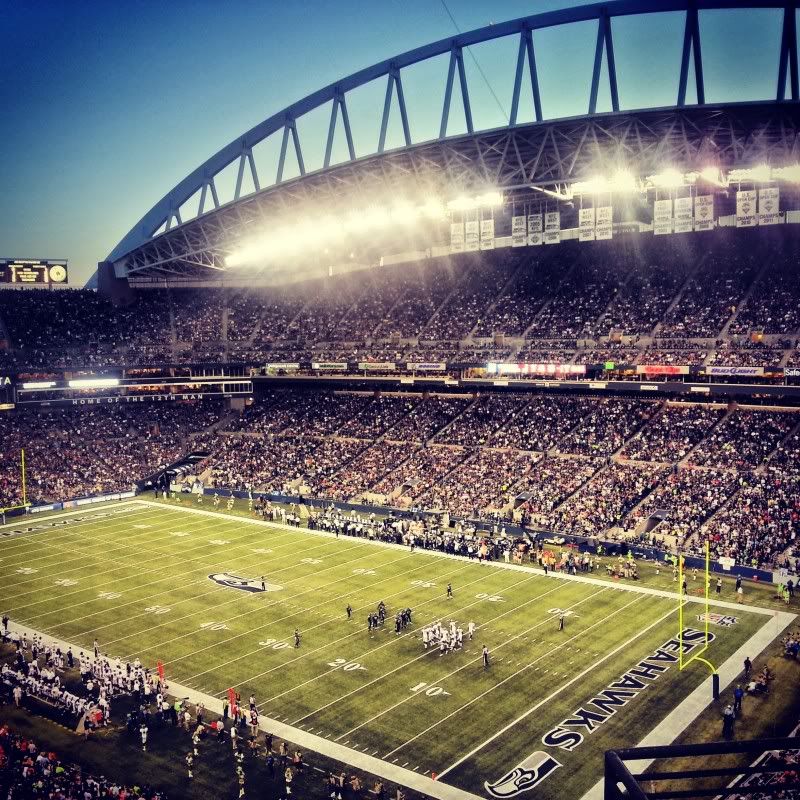 A little food porn for you all, Alex had this new fangled food called Potachos. They were exactly what they sound like, nachos with bbq potato chips, carne asada, grilled onions, and some yummy liquid cheese.....
I had the regular tortilla chip version, which was not the best choice heath wise, but when you are at the stadium, you might has well participate in all things football including the faire.
I am so excited for this season!